kit including 2 sensor briefs, supportive scorecards, stickers and expert guidance
product-usp-regular-1
product-usp-regular-2
product-usp-regular-3
product-usp-regular-4
Mickey bedwetting alarm set with 2 sensor briefs and expert guidance
With this set you can get started with your child right away! The kit contains everything you need to tackle bedwetting seriously :
Mickey wireless bedwetting alarm
A set of 2 sensor briefs
Stimulating Scorecard including stickers
Expert and personal guidance
The package will be sent to your home address for free
The Mickey has been renewed! Of course still wireless for optimal sleeping comfort. This bedwetting alarm offers a choice of 5 different alarm signals and the volume is easy to adjust. But above all, this bedwetting alarm is distinguished by its very child-friendly design.
Because images often say more than words, the Mickey bedwetting alarm is explained in more detail in the video below.
Includes: Set of 2 sensor briefs
The organic cotton sensor pants are handmade in Portugal and look like normal underwear. The only difference are the unvisible sensor wires. With these wires a large sensor area is created to identify the loss of urine quickly. Since boys and girls are built differently, we have special sensor briefs for boys (boxers) and girls (hipsters). There is a choice of 3 different colors per gender.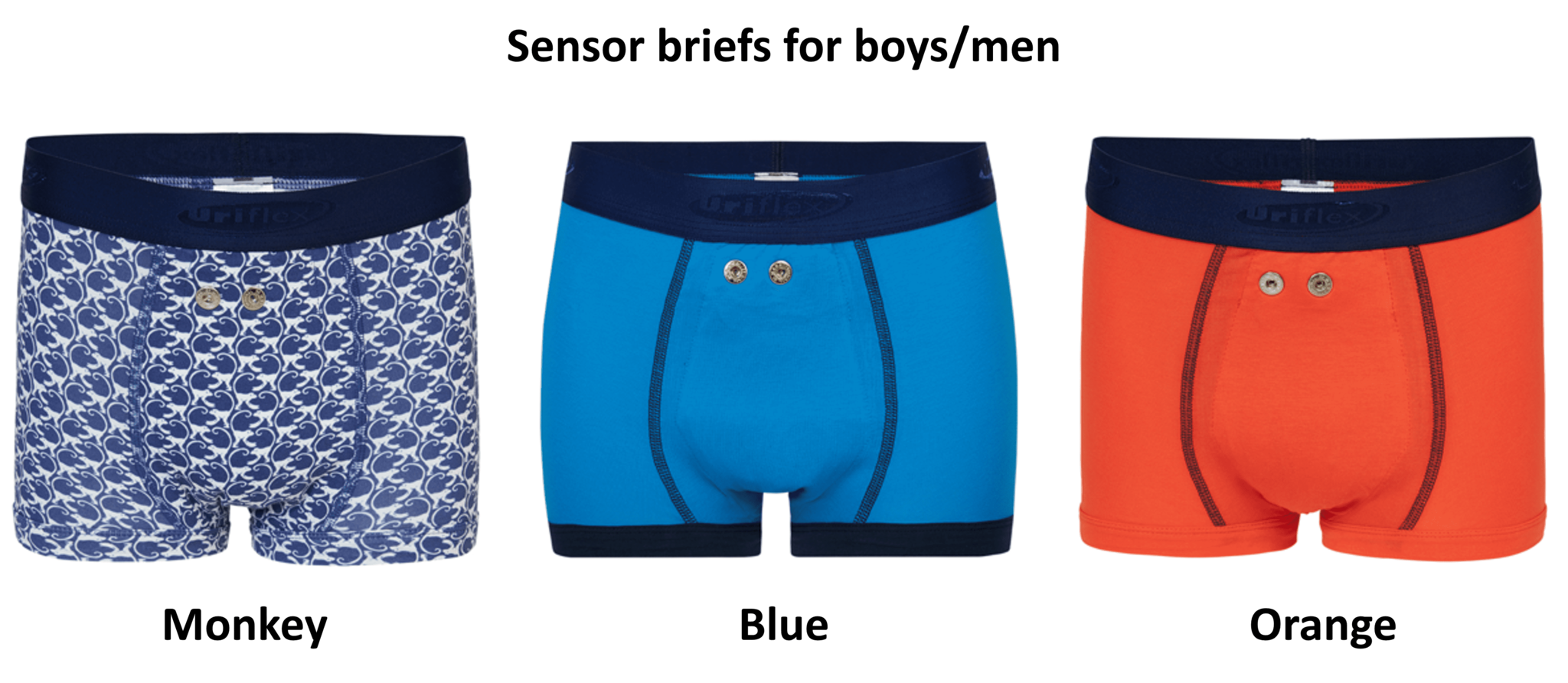 The sensor pants are designed in such a way that the first drops of urine are always detected. Very important for an efficient and effective training!
In the Mickey Plus kit you will have an additional sensor brief with a discount. This might useful in case of multiple urinating moments per night or to make sure you have plenty of dry, clean sensor briefs available at the beginning of each night.
Includes: Stimulating scorecard and stickers
A stimulating score card is included with the bedwetting alarm. This allows you to keep track of the result of the previous night on a daily basis. Each day points can be won and a sticker can be pasted. These have a stimulating effect on many children. 
Includes: Personal and expert guidance
Scientific research shows that professional guidance during the bedwetting alarm training leads to better results. Urifoon customers can make free use of our professional and personal guidance, which consists of:
Emails throughout the training. We recommend you to read them and apply them where necessary. For many children the advises made the difference between successfully completing the bedwetting alarm training or not.
Personal feedback by phone or mail. You can contact us by telephone during office hours and we will discuss the progress of your child's training and can then provide you with very specific advices to ensure that the training runs as effectively as possible. You can call us on +31 297 760 001 (between CET GMT+1). But you can also send an email to

[email protected]

.
We help you during the entire training and as often as necessary until your child is toilet trained. Of course also in the event of a relapse if this unfortunately happens.
Is expert guidance important during bedwetting alarm training?
Yes! Scientific research shows that many more children successfully complete the bedwetting alarm training and are still toilet trained after a year when the training is expertly supervised than when there is no (good) supervision. This also makes sense, because bedwetters are difficult to wake up and just a signal of the bedwetting alarm is not sufficient. Otherwise, they would wake up faster themselves from a wet bed or the wetness of a leaky diaper.
Without guidance, the temptation is also great to stop training too quickly and this significantly increases the chance of a relapse.
Expert guidance is especially important for bedwetters. Because what do you do if your child:
Not quickly awakened by the alarm of the bedwetting alarm? Or
Wetting the bed at least twice a night? As a result, the alarm goes off just as often during the training and this won't be sustained after a few weeks by your child and youself. Or
Does respond to the alarm, but looks straight ahead and is not aware of what is happening and what it should do.
Just a few examples that often occur in practice. Our expert helpdesk has been guiding the training since 1954 and knows how to overcome the most difficult hurdles with targeted advices. This has genuinely made the difference for many children. We have helped > 1.000.000 children successfully. Is your child the next one?
The result of our personal guidance
If there is no physical reason that causes bedwetting and your child trains seriously and follows the tips and trice, then over 90% is potty trained within 6 to 12 weeks!
Our professional and personal guidance is free of charge for customers who bought one of our bedwetting alarms from us.
Includes: Home delivery for free
We will ship the bedwetting alarm within 1 working day to your address for free.
| | |
| --- | --- |
| # of alarms | 5 |
| Adjustable volume | Yes |
| Vibrating element | No |
| Dimension receiver | 120 x 70x 40 mm |
| Dimension transmitter | 70 x 27 x 11 mm |
| Battery transmitter | Yes, 3V type 2032 |
| Nightlight at receiver | Yes |
| Turn of the alarm | Button on top of the receiver |
| Special 1 | Light signal when battery transmitter is almost empty |
| Special 2 | Sound alarm changes when transmitter is removed from wet sensor brief |